George Oscar "GOB" Bluth, the oldest son of George and Lucille Bluth, hasn't always been the most successful of the Bluth clan.
From his middling magic career…
to his on-stage partnership…
and even his work around the office…
Gob has skirted by thanks to his supreme confidence and his utter disregard for others' opinions.
But there is one thing we know he was very good at: softball.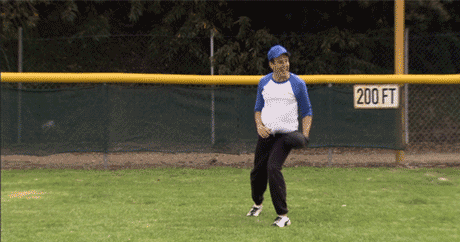 According to some, GOB was the best softball player in the league. He was particularly good at sacrificing his body for the play – though he did have his drawbacks:
That said, when GOB wanted to play well, he could. Case in point: the annual company softball game between The Bluth Company and Stan Sitwell. After heading over to Sitwell's company in search of a parental figure who might approve of him (a feeling unknown to GOB), he found himself playing against his family in the big game. GOB, ever the proud Bluth, purposely tanked the game, dropping balls and swinging meekly at the pitches Michael threw him.
Sitwell noticed GOB's lackluster performance and gave him a peptalk. "Hey, everybody has days like this. It's only a game. After that list of ideas you gave me, I don't care if you blow the whole season. Come here, you." The speech touched GOB in a place he didn't know existed and, on the next pitch, he went all out, blasting a shot off of Michael.
GOB isn't a modest man. He watched the ball sail away before flipping his bat and slowly trotting around the bases. If he had been a bit more determined to speed through his trot, he would have had an easy home run. As it was, GOB slowed down once or twice and was forced to sprint home to beat a throw from his nephew, George Michael. The play at the plate was messy, with GOB running into George Michael's girlfriend Ann, also known as "The Wall," but he was eventually called safe. The 15.72 second trot from GOB was enough to win the game for the Sitwells.
It wasn't, however, enough to keep his job at the company.
Come on!